Taylor Ayers
I am from the Pocono Mountains in Northeastern Pennsylvania. In 2019, I earned my B.S. in Molecular Biology from the University of Pittsburgh. I came to Pittsburgh for my undergraduate degree and I have hung around ever since.
I am a proud plant and dog mom (to my girl, Peyton!). I am a coffee enthusiast, a Rico the Porcupine stan, and a novice crocheter. I love hiking, water skiing, and boating with family during the summer.
I am very grateful that I get to pursue my PhD in the Woolford Lab!
---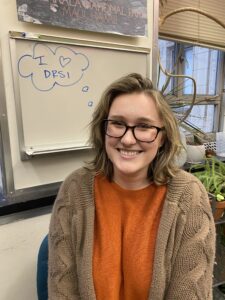 Fiona Fitzgerald
I'm studying how the DEAD-box helicase Drs1 contributes to compaction of domain III in the LSU.
I am from Clinton, New Jersey, and received my B.S. at The Pennsylvania State University with a major in Biochemistry and Molecular Biology and a minor in Microbiology. With the desire to further my knowledge and experience in the field, I came to Pittsburgh in 2017 to earn my PhD at Carnegie Mellon. In 2018, I joined the Woolford Lab. I am fortunate to be earning my degree in such a highly supportive and collaborative environment with some of the most wonderful colleagues I could ask for.
Anyone who knows me can tell you that my 2 favorite things in the world are dogs and pizza. I enjoy spending time with my friends and family, listening to music and podcasts, exploring Pittsburgh and its many fantastic restaurants and sights, playing board and card games, drinking tea, and crocheting.
---